If you're in the market for a new TV or considering an upgrade, but find yourself overwhelmed by the choices available, you've come to the right place. We're here to help guide you towards some excellent TV options. Welcome, everyone, to this article where we'll be discussing the top 32-inch Smart TVs. In today's world, television plays a pivotal role in bringing families together. That's why we've curated a list of the finest TVs for you. If you're keen on purchasing a new TV, then read on till the end as we'll be delving into their features, specifications, and much more. So, without further ado, let's dive into this article.
Best 32-inch Smart TV:
When looking for the best 32-inch Smart TV, it's important to consider factors such as picture quality, sound performance, smart features, connectivity options, and overall value for money. Here are a few top contenders:
Samsung LED Smart Tizen:
This TV offers exceptional value, boasting impressive Picture Quality and a solid sound system. It's a highly recommended choice for those looking for a mid-priced Smart TV. Featuring a 3-side Bezel-less Design, it maximizes screen space for a truly immersive visual experience. The outstanding HD Picture Quality ensures crystal-clear clarity, perfect for enjoying your favorite movies. With just one remote, you have access to a wide variety of content.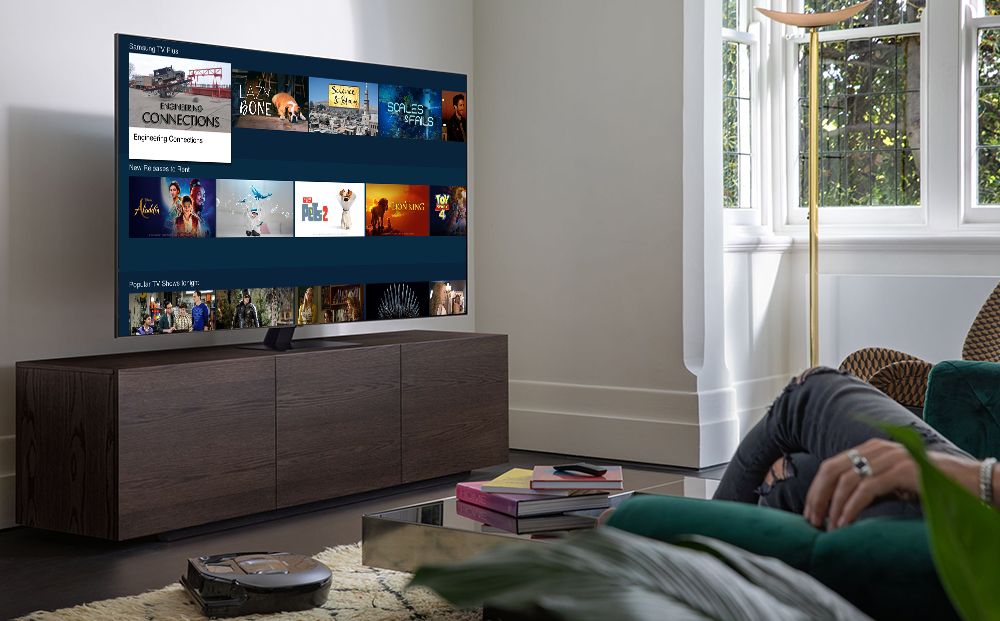 Thanks to High-Dynamic Range technology, this TV enhances brightness, allowing you to see a broad spectrum of colors and fine details even in low-light settings. The PurColor Supremacy feature enables the display of a rich array of colors, ensuring optimal image quality and a captivating viewing experience. The Ultra Clear View function delivers high-resolution images.
You can effortlessly mirror your computer's display on the TV using Remote Access. With Dolby Digital Plus, you'll experience a 360-degree immersive sound system, complete with 3D audio driven by multichannel audio, immersing you in your favorite music. It offers seamless content browsing, providing quick access to a wide range of OTT content. Additionally, it includes Personal Computer Mode, Seamless Mirroring, a remarkable Game Mode, Web Browser, Film Mode, and Samsung TV Plus mode.
All these impressive features come at a competitive price of Rs. 12,990 for this Smart Tizen TV.
Vizio D32h-D1 (US)
VIZIO stands out as a leading choice for high-value TVs in the United States, and the Vizio D-Series is currently among the top small TVs available.
Despite its unassuming name, Vizio hits the mark perfectly in terms of balancing features and affordability. While it doesn't offer a 1080p Full HD screen, it does provide a full array LED backlight, resulting in a brighter image that's easily viewable even during daylight hours. Additionally, it comes equipped with smart TV capabilities, offering access to popular streaming services like Netflix, YouTube, and Hulu through the SmartCast platform, which is also featured in Vizio's premium models.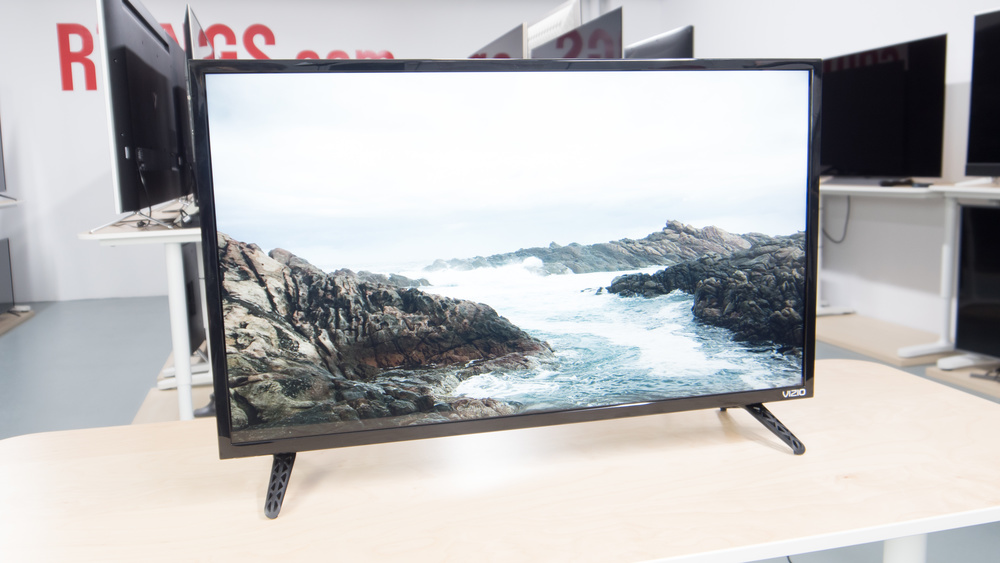 The built-in pair of 5W speakers are basic, so you might want to consider connecting external audio equipment for an enhanced audio experience. Nonetheless, considering its compact size and budget-friendly price, you're getting an impressive array of features – including two HDMI ports, a USB port, and HDMI ARC support for a soundbar.
LG LED Smart TV:
This smart TV stands out as a top-notch choice, boasting impressive picture quality, stunning display resolution, and exceptional sound quality alongside a range of amazing features. It offers excellent value for your investment. The Dynamic Color Enhancer enriches your viewing experience with vibrant and lifelike colors on the screen. The TV delivers breathtaking visuals with HDR quality.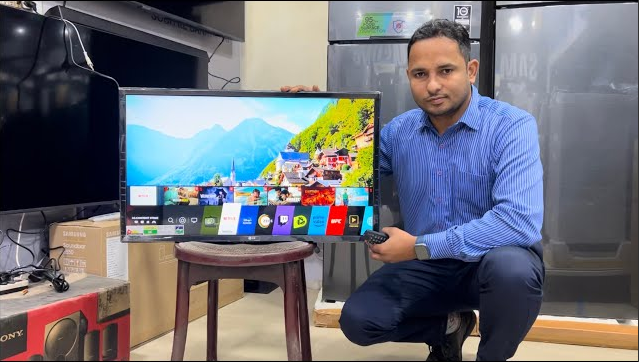 Its built-in speakers provide an immersive and multi-dimensional sound experience, delivering clear and detailed theatre-like audio at home, thanks to Dolby Audio technology. The intuitive Home Dashboard allows you to access connected smart devices from a distance. With LG's WebOS feature, you can enjoy your favorite shows and movies from various streaming services like Netflix, Disney+Hotstar, and more.
Equipped with a Quad Core Processor, this TV minimizes noise and presents visuals with vivid colors and high contrast. Its thin bezel and stylish finish add a touch of sophistication to your home's decor. You can seamlessly browse the Internet and watch shows or movies simultaneously, ensuring you stay updated with important news and updates.
Acer V Series
The Acer V Series TV offers an exceptional overall experience, particularly in terms of picture and sound quality, all while being budget-friendly – a no-brainer choice. It harnesses the power of QLED Technology, boasting a stunning palette of over one billion colors, guaranteeing that every scene is a true masterpiece. With a spectrum of over 16 million colors, the Acer V Series TV brings your world to life with true-to-nature hues, ensuring every detail is portrayed vividly and authentically.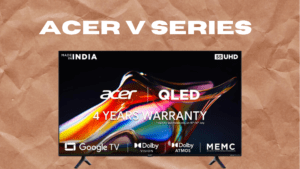 Equipped with a 30 W speaker, it delivers rich and crystal-clear sound to fill your room. Personalized Entertainment allows you to create a tailored profile, opening doors to discovering new favorites through customized recommendations. Casting is at your fingertips, and the Acer V Series provides access to over 10,000 apps, offering content curated just for you.
With a range of connectivity options including Dual-Band WiFi, HDMI 1.4, eARC, 2-Way Bluetooth 5.0, USB 2.0, and more, it ensures seamless integration with your devices. The sleek, minimalist, and ultra-modern metal-finish frameless design elevates the aesthetics of your living space.
Thanks to Black Level Augmentation, the Acer V Series TV delivers striking contrast and enhanced brightness, resulting in deeper blacks and brighter whites. The frameless design expands your viewing area, immersing you in the visuals without any distractions.
In terms of pricing, the Acer V Series TV comes in at 15,999 Rupees, offering tremendous value for its features and quality.
Frequently Asked Questions
What are the advantages of a 32-inch Smart TV?
A 32-inch Smart TV offers a balance between size and versatility. It's suitable for smaller spaces and provides access to streaming services, apps, and internet browsing.
What resolution should I look for in a 32-inch Smart TV?
For a 32-inch TV, a resolution of at least 720p (HD) is generally sufficient. However, if you plan on using it for gaming or watching high-definition content, consider a 1080p (Full HD) or even a 4K model.
Which brands offer reliable 32-inch Smart TVs?
Some reputable brands known for producing quality 32-inch Smart TVs include Samsung, Sony, LG, TCL, and Vizio.
Can I connect external devices to a 32-inch Smart TV?
Yes, most 32-inch Smart TVs come with multiple ports such as HDMI, USB, and audio/video inputs, allowing you to connect gaming consoles, Blu-ray players, soundbars, and other devices.
Do all 32-inch Smart TVs have built-in Wi-Fi?
Yes, the majority of 32-inch Smart TVs are equipped with built-in Wi-Fi, enabling you to connect to your home network for internet access and streaming capabilities.
What smart features should I consider in a 32-inch Smart TV?
Look for a TV with a user-friendly interface and support for popular streaming apps like Netflix, Hulu, Amazon Prime Video, and YouTube. Voice control and compatibility with smart home devices can also be beneficial.
Is it important to consider audio quality in a 32-inch Smart TV?
While 32-inch TVs are relatively small, good audio quality enhances the viewing experience. Look for models with built-in sound enhancements or consider investing in a soundbar for improved audio.
Can I mount a 32-inch Smart TV on the wall?
Yes, most 32-inch Smart TVs come with VESA mount compatibility, allowing you to securely attach them to a wall bracket if you prefer a wall-mounted setup.
Conclusion
Selecting the best 32-inch Smart TV involves considering factors like resolution, brand reputation, connectivity options, and smart features. It's essential to strike a balance between size and functionality, ensuring the TV fits your space while providing the features you desire.
Reputable brands like Samsung, Sony, LG, TCL, and Vizio offer reliable options in this category. Additionally, paying attention to resolution, audio quality, and compatibility with external devices can greatly enhance your viewing experience.