Hello everyone, and welcome to this article. Today, we will be discussing the top gaming smartphones. These phones offer the best performance, displays, and batteries that can handle a full day of gaming without any lag. For those who enjoy playing games with high graphics resolution, you're in for a treat. We have compiled a list of the best gaming phones that offer a smooth performance at a reasonable mid-range price.
Whether you're a pro gamer or someone looking to showcase your gaming skills on platforms like YouTube, but unsure of which phone to choose, this article is tailored for you. We'll delve into the features, specifications, and much more in detail, so make sure to read this article to the end without skipping.
Asus ROG Phone 5 Ultimate
The Asus ROG Phone 5 Ultimate, with its stylish design and versatility, ensures that you can enjoy your gaming sessions for extended periods. It's considered one of the best phones for gaming. This smartphone is equipped with features like Air Trigger 5 and an ultrasonic button that elevate your gaming experience to the next level. Additionally, it boasts two RGB LEDs that create a cool gradient light effect in the logo.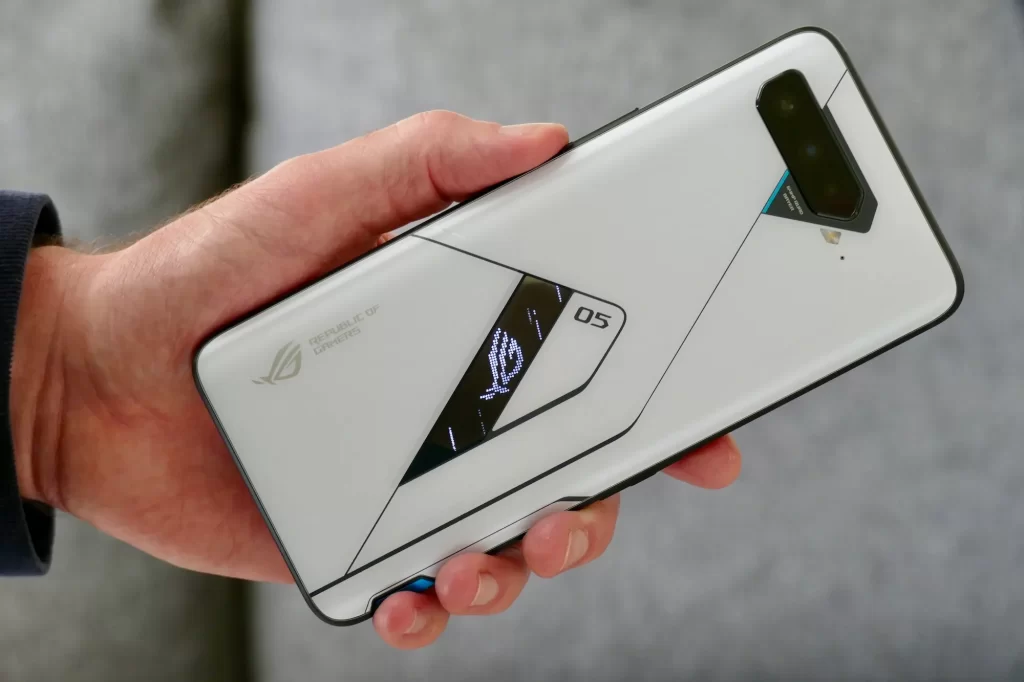 With its massive 6,000 mAh battery capacity, you can indulge in uninterrupted gaming for extended durations. The smartphone also sports a 64 MP Sony IMX686 flagship sensor, complemented by a 13 MP 125° ultra-wide-angle camera for capturing wider views. It also includes a 5 MP macro camera for close-up shots and allows for video recording in stunning 8K resolution. The 144 Hz Samsung AMOLED display ensures a lag-free experience.
Even during intense graphics-intensive gaming, this smartphone remains cool. Powered by a 5 nm Qualcomm Snapdragon 888 5G Mobile Platform, it effortlessly handles any task. It comes with dual USB Type-C ports for added convenience. The screen size measures approximately 17.22 cm (6.78 inches), accompanied by a staggering 18 GB of RAM and 512 GB of internal storage. The Asus ROG Phone 5 Ultimate is priced at around Rs. 85,999.
Motorola Edge 40 Pro
At its price point, this phone is truly a masterpiece, offering flagship features like wireless charging, making it an excellent choice for gamers on a mid-range budget. It boasts a Super Slim IP68 Rating for underwater protection, safeguarding against dirt and dust. The design features stunning endless edges, with a sleek curve and super slim body that exudes a premium look.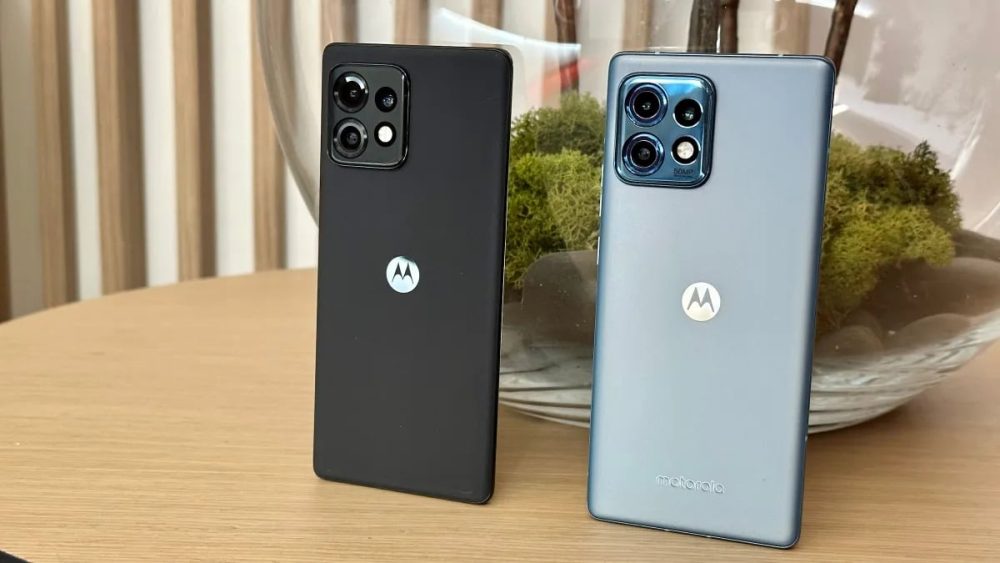 Powered by a MediaTek Dimensity 8020 Processor, it delivers a lightning-fast user experience, enabling faster frame rates, high-speed file transfers, and high-resolution videos. The impressive 144 Hz refresh rate ensures smooth scrolling, streaming, browsing, and gaming. The phone sports a 16.51 cm (6.5 inch) display with a Full HD+ screen resolution of 2400 x 1080 Pixels.
Capture breathtaking photos with the 50MP main camera, capable of producing stunning shots. The camera offers a plethora of modes, including 360-degree Panorama, Night Vision, Dual Capture, Scan, Spot Color, Google Photos Enhance, Auto Smile Capture, Google Lens Integration, Smart Composition, Shot Optimization, Auto Night Vision, Smart High Resolution, Burst Shot, Timer, Assistive Grid, Leveler, Metering Mode, Watermark, RAW Photo Output, QR/Barcode Scanner, HDR, Super Resolution Zoom, Active Photos, Live Filters, and Quick Capture.
With 256 GB of internal storage and 8 GB of RAM, you can store a large number of photos, videos, and documents. The Motorola Edge 40 Pro is priced at Rs. 26,999.
Samsung S23 Ultra
The Samsung Galaxy S23 Ultra 5G is also a compelling choice for gaming enthusiasts. It features a Dynamic Display with AMOLED 2X technology, delivering sharp and vibrant details regardless of the lighting conditions. The screen measures 17.27 cm (6.8 inches) with a screen resolution of 88 x 1440 Pixels, providing an optimal gaming and video streaming experience powered by the Snapdragon 8 Gen 2 processor, ensuring a cool and smooth performance.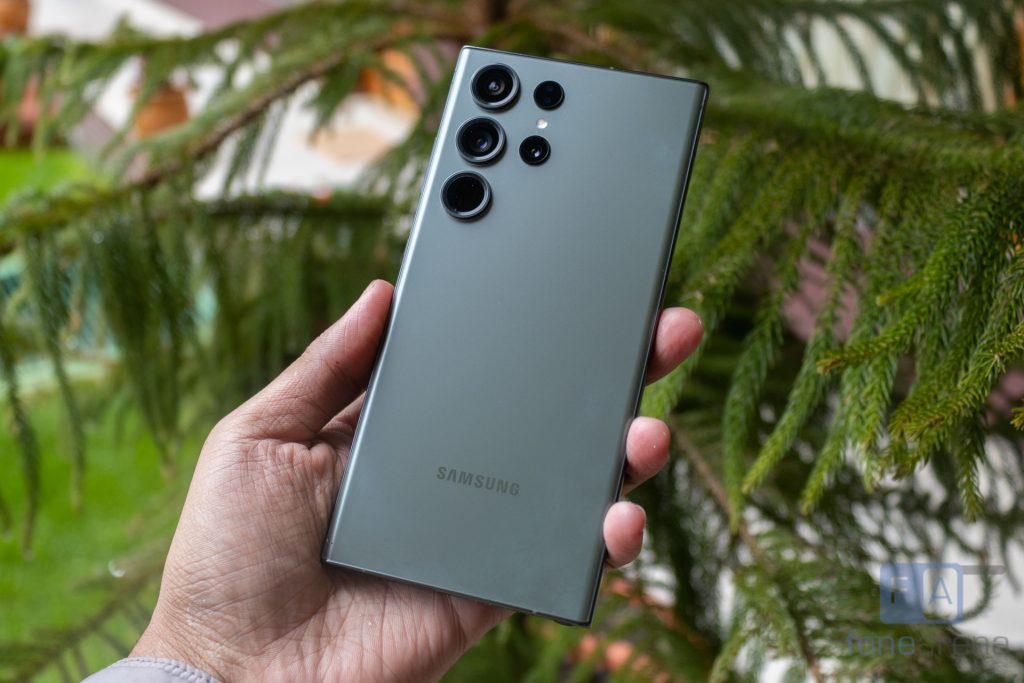 Crafted from repurposed glass and PET film, and colored with organic dyes, it combines sustainability with style. With a battery capacity of 5000 mAh, you can enjoy uninterrupted gaming and streaming sessions. The camera quality is exceptional, featuring a 200MP + 10MP + 12MP + 10MP primary camera and offering 4K Ultra HD video recording. It also includes various camera modes like AR Zone, Bixby Vision, Director's View, Food, Hyperlapse, Night, Panorama, Photo, Portrait, and an array of video features.
With a generous 512GB of internal storage and 12GB of RAM, you'll have ample space for photos, memories, files, and documents. Additionally, it comes with an Amazing S Pen, providing an eco-friendly alternative for note-taking and sketching. The Samsung Galaxy S23 Ultra 5G is priced at Rs. 1,34,999.
Frequently Asked Questions
What are the top three gaming smartphones in 2023?
We've identified the top three gaming smartphones in 2023 based on their exceptional performance, display quality, and gaming-specific features. These devices offer an immersive gaming experience like no other.
How do these gaming smartphones compare in terms of performance?
Each of the top three gaming smartphones boasts cutting-edge processors, ample RAM, and powerful GPUs designed to handle demanding games with ease. We'll provide a detailed performance comparison to help you choose the one that suits your gaming needs.
What sets these gaming smartphones apart from regular smartphones?
These gaming smartphones are engineered with features like advanced cooling systems, high refresh rate displays, customizable gaming modes, and optimized touch response, all tailored to enhance the gaming experience.
Do these gaming smartphones support high-end graphics and demanding games?
These smartphones are equipped to handle graphically intensive games with ease, delivering stunning visuals and smooth gameplay for even the most demanding titles.
How long can I expect the battery to last during gaming sessions?
Battery life is a crucial factor for gamers. We'll provide detailed information on how each of these gaming smartphones performs in terms of battery endurance during extended gaming sessions.
Can these gaming smartphones be used for other tasks besides gaming?
Despite their gaming prowess, these smartphones are versatile devices that excel in everyday tasks, such as browsing, streaming, and productivity apps. We'll discuss their performance in non-gaming scenarios as well.
What is the pricing range for these top gaming smartphones?
While these smartphones offer premium gaming experiences, we'll provide insights into their pricing, ensuring you can make an informed decision based on your budget.
Conclusion
The top three gaming smartphones featured in this article have demonstrated exceptional capabilities in delivering a premium gaming experience. With powerful processors, high-quality displays, and optimized gaming features, they stand out as top contenders for avid gamers and mobile gaming enthusiasts alike.
These devices not only excel in gaming performance but also offer versatility for everyday tasks, making them valuable companions in various aspects of your digital life. Whether you're immersed in the world of high-end graphics or tackling day-to-day activities, these gaming smartphones prove to be reliable and efficient.